OUR HISTORY
True Light was founded on March 12, 1988. The church was initially planted in a hotel, the Holiday Inn, in Montbello. The Holiday Inn was the only hotel in the area that was willing to allow regular meeting times for our church. This providentially established the area of ministry in Montbello.
The first service was held in the Copper Mountain Room of the Holiday Inn. Approximately nine months later, in January of 1989, with a charter membership of 51, the church moved from the hotel to a storefront location down the street at 4812 Chambers Road. This location allowed for great visibility to those who frequented the shopping center and those who traveled Chambers Road.
In 1993, the church purchased four acres of land upon which it presently sits. The providential circumstance of the purchase of this land, approximately one-tenth of the asking price, has throughout the years served to anchor the ministry location in Montbello. The church has conducted three phases of construction on this site, Phase One in 1995, Phase Two in 1999, and Phase Three in 2011, to continue to enable the church to increase its influence in the community.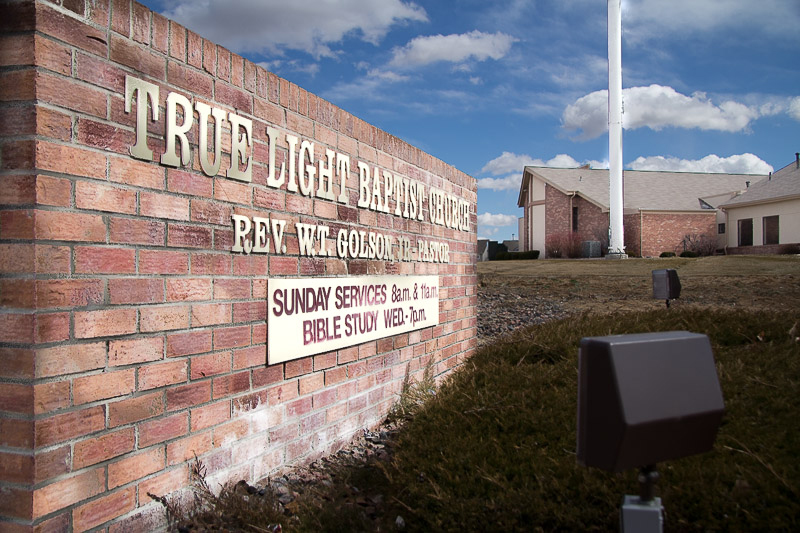 Throughout the years the church has been involved in after-school tutoring, youth mentoring, AWANA, Boy Scouts, health screenings and education, extended personal finance training, arthritis exercise groups, Weight Watchers, Puppet Ministry, Gospel on the Green, scholarships, and many other meaningful ministries.
Globally, the church supports missions through its conventions: American Baptist USA, Inc. and National Baptist USA, Inc. Additionally, it supports two missionaries directly in Zimbabwe, in Malawi, and missionaries from the church have been to Nassau, Bahamas to share in teaching Vacation Bible School on a number of occasions.  Numerous local ministries and other churches have also benefited from True Light's generosity.